Tile Backsplash
At Carpet One Floor & Home, we can help you upgrade your space with a new tile backsplash – it could be just what you need to transform that look of your kitchen or bathroom. By upgrading your space, you're not only investing in your home but also changing the look of your space and allowing it to complement other aspects of the design. Whether you have a mid-century modern design or a farmhouse-inspired design, a tile backsplash can be just the style you want.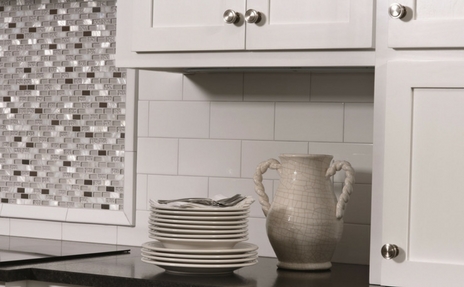 Create a Custom Backsplash
Whether you have a specific backsplash design in mind or you haven't thought much about it, creating a unique backsplash is easy to do. With so many designs ranging in style, pattern, tone, and color, you can get a backsplash that reflects your true design personality. From backsplashes with bold, busy mosaics, to backsplashes that are timeless and match almost any décor, your custom backsplash design is completely up to you. If you haven't taken time to think about what tile you prefer, our design experts can help give suggestions based on your home and lifestyle.
Durable Protection
It is true that tile backsplashes originally started because of the protection that was needed for kitchen and bathroom walls. Today, tile backsplashes are still an excellent way to protect these areas of your home from spills, splatters, and moisture. You won't have to worry about the accidents that happen when you have a tile backsplash.
Easy Maintenance
You never know what kind of accident could happen in your kitchen or bathroom, which is why it's so important that the materials you use can withstand issues. Tile is easy to maintain and doesn't tend to crack or chip, making it one of the best options for a backsplash. Dirt and debris don't stick to tile, so wiping off splatters is a breeze by wiping them with a cloth or sponge.